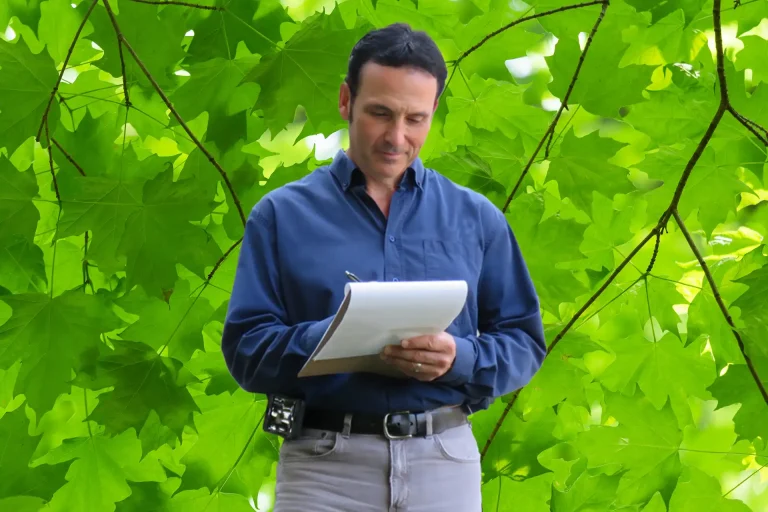 Effective Tree Protection Plans
Arborist Reports and Tree Protection Plans are required to inventory, assess and make recommendations regarding the protection or removal of any trees on or around construction and development project sites. In many cities and towns, all trees within 6 meters of the construction zone must be inventoried and assessed. Arborist Reports and Tree Protection Plans are required for residential construction and renovation projects, deck or hardscaping installations & renovations, as well as pool and septic system construction projects in many areas of Southern Ontario.
Arborist Reports must be completed by an ISA Certified Arborist and be signed with their Certification number and credentials in order to be accepted. Our team of ISA Certified Arborists are fully qualified to complete Arborist Reports, Tree Protection Plans, Tree Permit Applications and Tree Inventories to meet all of your tree assessment needs.
Why Choose Green Bird Horticultural for Tree Protection Plans?
Green Bird Horticultural is insured with full-range liability insurance for up to $5,000,000, ISA certified and TRAQ certified. It's important to note that hiring an ISA certified and insured arborist report service like Green Bird Horticultural is crucial for ensuring you are in compliance with municipal and commercial regulations.
Who Can Create a Tree Protection Plan?
A tree protection plan can be prepared by various professionals who have knowledge and expertise in tree care and construction. These can include certified arborists, landscape architects, environmental consultants, and civil engineers. These professionals are familiar with the local regulations and guidelines for tree protection during construction and can create a comprehensive plan that addresses the specific needs of your property. It is important to collaborate with these experts to ensure that the tree protection plan is well-designed and effective in preserving the health and integrity of the trees during construction and beyond.
Green Bird Horticultural's ISA Certified consulting arborists are the best choice for your tree protection plan needs offering the additional services you need in one place.
What is in a Tree Protection Plan?
A tree protection plan typically includes the following elements:
A detailed inventory of all the trees on the property, including their species, size, condition, and location.
A thorough assessment of the health and structural integrity of the trees, including any existing damage or diseases.
3. Tree Protection Measures
Specific measures to be implemented to protect the trees during construction, such as fencing, mulching, or root protection systems.
4. Construction Guidelines
Detailed guidelines for contractors and construction workers to follow to minimize the impact on trees and their root systems.
5. Tree Preservation Zones
Designation of specific areas where no construction activities are allowed to take place to protect the root systems and overall health of the trees.
6. Tree Care and Maintenance
Recommendations for ongoing tree care and maintenance, including pruning, fertilization, and watering schedules.
7. Monitoring and Inspection
Regular monitoring and inspection of the trees during and after construction to ensure compliance with the protection plan and to address any issues that may arise.
8. Tree Replacement Policies
Guidelines for tree replacement in case any trees are damaged beyond repair during construction.
9. Compliance with Local Regulations
Adherence to local regulations and guidelines regarding tree protection during construction.
10. Communication and Collaboration
Effective communication and collaboration between all stakeholders involved, including property owners, contractors, and tree care professionals, to ensure the successful implementation of the tree protection plan.
Remember to always consult with certified professionals, such as Green Bird Horticultural's certified arborists, to create a comprehensive and effective tree protection plan that suits the specific needs of your property.
Why Do You Need a Tree Protection Plan?
A tree protection plan is essential for construction, hardscaping and care of trees for many reasons such as:
1. Preventing damage during construction
Construction activities can pose a significant risk to trees, such as root compaction, soil disturbance, and physical damage. A tree protection plan helps to identify and implement measures to minimize these risks and protect the trees during construction.
2. Preserving the health of trees
Construction activities can disrupt the natural environment around trees, leading to stress and potential decline in their health. A tree protection plan ensures that necessary measures are taken to preserve the health of trees and prevent any long-term damage.
3. Maintaining the aesthetic value
Trees add beauty and value to a property. A tree protection plan ensures that the trees are protected and maintained during construction, preserving the aesthetic appeal of the landscape.
4. Complying with local regulations
Many municipalities have regulations in place to protect trees during construction. Having a tree protection plan ensures that you comply with these regulations and avoid any penalties or legal issues.
5. Sustaining the ecosystem
Trees play a vital role in the ecosystem, providing habitat for wildlife, improving air quality, reducing noise pollution, and preventing soil erosion. A tree protection plan helps to safeguard these ecosystem services and promote a healthy environment.
6. Long-term tree management
A tree protection plan goes beyond the construction phase. It includes measures for ongoing tree care and maintenance, such as pruning, fertilization, and pest control. This ensures the long-term health and longevity of the trees on your property.
Overall, a tree protection plan is crucial for the construction and maintenance of trees as it helps to prevent damage, preserve tree health, comply with regulations, maintain aesthetics, sustain the ecosystem, and ensure long-term tree management.
What Do You Do With A Tree Protection Plan?
Based on the tree inventory and the recommendations of the arborist, a tree protection plan should be developed. This plan should include measures to protect the trees during construction; such as fencing, mulching, and root pruning, regarding tree root protection. It should also outline the maintenance and care of the trees after construction is completed.
Educate Contractors and Workers
It's crucial to educate all contractors and workers on the importance of tree conservation, and the specific measures outlined in the protection plan. This will ensure that everyone involved in the project is aware of the trees and their protection. It's also important to have a designated person on site who is responsible for overseeing the tree protection plan and addressing any issues that may arise.
Once construction is completed, it's important to continue monitoring and maintaining the trees. This includes regular inspections to check for any damage or signs of stress, as well as providing necessary care such as watering and pruning. It's also important to address any issues that may arise, such as pests or diseases, in a timely manner.
As the property and trees continue to evolve, it's important to reassess and update the tree protection plan accordingly. This may include adding new trees to the inventory, adjusting protection measures, or implementing new maintenance practices. Regular reassessment and updates will ensure the continued conservation and health of the trees.
With an effective tree protection plan, you can ensure the conservation and maintenance of trees on your property. Not only does this benefit the environment, but it also adds value and beauty to your property. Trees are an essential part of our environment, providing numerous benefits such as clean air, shade, and beauty. However, with urbanization and development, trees are often at risk of being damaged or removed. That's why it's crucial to have a tree protection plan in place to ensure the conservation and maintenance of trees.

Catharine Innis
Client
Johl Anderson and his crew are outstanding. Clean cut, professional, polite, they did an excellent job of removing a tree that was threatening our house. They are so knowledgeable about trees and their care, and did a great job of clean up as well as taking down the tree quickly and efficiently. I would recommend them without reservation.

Angela Scarinci
Client
We have nothing but awesome things to say about the work done by Green bird Horticultural. From the get go, Johl was professional and helpful. Gave great suggestions in order to save trees and give us a better understanding of what to do moving forward. The crew showed up to remove two trees and were polite and professional as well. The work done over two days was done efficiently and carefully in order not to do any damage to our home or property which was much appreciated. Will use GBH again in a heartbeat.

Russell A.
Client
Green Bird did an awesome job of pruning and removing a few danger trees for me. They were professional and quick. I highly recommend them.

Kathy Mills
Client
On three visits to my home to correct trees that needed pruning, Johl and his employees did a wonderful job in making the trees safer and also more attractive. His knowledge of what was needed in that regard is impressive I also was happy with the clean up leaving everything in great shape.

Lise Comeau
Client
Johl and his team did a wonderful job thinning out the canopies and cutting down tree limbs in peril of falling on my roof. He contacted Hydro and made sure they trimmed back all the branches close to the hydro lines which I have been trying to get accomplished for a year! Great service!

Arthur Pereira
Client
Johl and his team were just great they came in removed a dead tree from my backyard pruned all my other trees and cleaned up my yard and my neighbours as well. Great professionals I would recommend them to anyone.

Massimo Scornavacca
Client
The crew was very professional. They did a fantastic job of cutting my tree down, and removing all of the branches. The area was left neat and tidy. The only negative thing I could say, is that it took over 2 months to get them here. Im still very happy with the job and would still highly recommend this company.

Doug Dolson
Client
Awesome Arborist, great pricing and very knowledgeable.

Neil McKay
Client
Great service - really helpful advice - very efficient and friendly
Podcasts from Beautiful Trees - A Division of Green Bird Horticultural