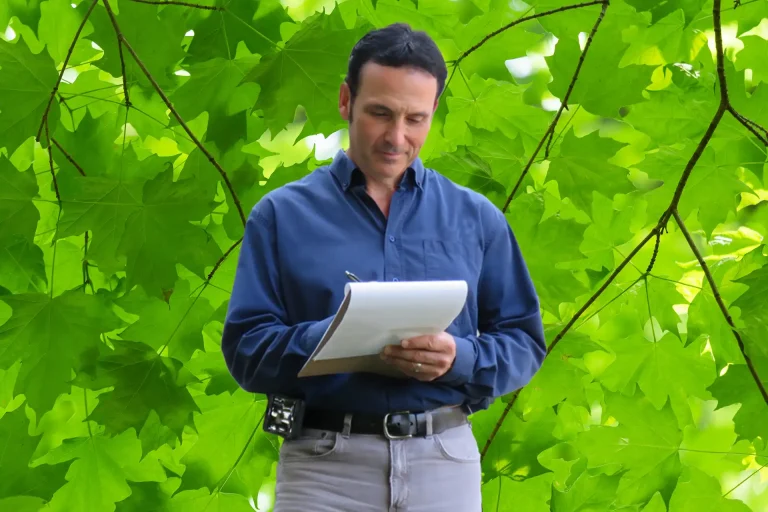 ISA Certified Tree Inventories from the Experts
A Tree Inventory is the documentation, assessment and evaluation of trees on a property, for the purposes of fulfilling the requirements for:
Arborist Report & Tree Protection Plan that is required for a construction and development project
Land Severance
Tree Health Assessment
General Property Assessment or Biodiversity Assessment
Tree Canopy Cover evaluation
Hazard Evaluation Assessment
Tree Succession Plan & Proposed Tree Planting Plan
Environmental Assessment
Tree Inventories must be completed by an ISA Certified Arborist and be signed with their Certification number and credentials in order to be accepted. Our team of ISA Certified Arborists are fully qualified to complete Arborist Reports, Tree Protection Plans, Tree Permit Applications and Tree Inventories to meet all of your tree inventory needs.
Why Choose Green Bird Horticultural for Tree Inventories?
Green Bird Horticultural is insured with full-range liability insurance for up to $5,000,000, ISA certified and TRAQ certified. It's important to note that hiring an ISA certified and insured arborist report service like Green Bird Horticultural is crucial for ensuring you are in compliance with municipal and commercial regulations.
What is an Tree Inventory?
A tree in It includes information such as the species, size, condition, and location of each tree. It typically also includes information such as the species, size, condition, and location of each tree.
Conducting a tree inventory is crucial for the management and preservation of trees. This information is typically collected through a tree survey.
What are the benefits of Tree Inventories?
Tree Inventories are recommended and required for a number of reasons including:
Compliance and Legal
A tree inventory may be needed, or recommended, for construction, land development, or a possible land severance.
It also provides a record of the trees in case of any disputes or legal issues.
Many cities and communities have regulations in place for the management and preservation of trees. Conducting a tree inventory can help ensure compliance with these regulations
Environmental
A tree inventory is essential to identify the health and maintenance needs of tree species and condition of each tree.
This can help prevent potential hazards and prolong the life of the trees on your property and your community.
Environmental assessment could be assisted by this inventory in area where habitat could be in jeopardy.
Promoting Environmental Sustainability
Mitigating the effects of climate change through tree planting
Improving air quality and reducing pollution
Enhancing biodiversity and supporting wildlife habitats
Identifying areas with low tree canopy cover
Understanding Tree Diversity
Identifying the different species of trees present in an area
Assessing the distribution and abundance of each species
Recognizing the importance of native and non-native species
Planning
It would allow arborists to determine if any trees are diseased or in need of pruning or other maintenance.
Tree inventories is a benefit to succession plans and planting schedules. This can help maintain a healthy and diverse urban forest for years to come.
Planning for Tree Planting and Maintenance
Determining suitable locations for new tree plantings
Developing a strategic plan for tree maintenance and care
Who is qualified to do Tree Inventories?
Tree inventories should be conducted by trained and certified professionals. Green Bird Horticultural's trained professionals will physically inspect and record data on each tree. Having more than 35 years of experience and being ISA Certified and TRAQ certified, we are the top choice for conducting tree inventories in Toronto, Muskoka, and surrounding regions. Contact us today for a free quote.
Why choose Green Bird Horticultural for your Tree Inventories?
By investing in tree inventories, you may enhance planning and creating a greener and healthier environment. Tree inventories can inform decision making processes and contribute to the creation of sustainable and livable environments. They may also be necessary for permits for development or removals. Contact us today for a free quote for your tree inventory needs; as well as arborist reports, breeding bird surveys, tree protection plans and more.

Catharine Innis
Client
Johl Anderson and his crew are outstanding. Clean cut, professional, polite, they did an excellent job of removing a tree that was threatening our house. They are so knowledgeable about trees and their care, and did a great job of clean up as well as taking down the tree quickly and efficiently. I would recommend them without reservation.

Angela Scarinci
Client
We have nothing but awesome things to say about the work done by Green bird Horticultural. From the get go, Johl was professional and helpful. Gave great suggestions in order to save trees and give us a better understanding of what to do moving forward. The crew showed up to remove two trees and were polite and professional as well. The work done over two days was done efficiently and carefully in order not to do any damage to our home or property which was much appreciated. Will use GBH again in a heartbeat.

Russell A.
Client
Green Bird did an awesome job of pruning and removing a few danger trees for me. They were professional and quick. I highly recommend them.

Kathy Mills
Client
On three visits to my home to correct trees that needed pruning, Johl and his employees did a wonderful job in making the trees safer and also more attractive. His knowledge of what was needed in that regard is impressive I also was happy with the clean up leaving everything in great shape.

Lise Comeau
Client
Johl and his team did a wonderful job thinning out the canopies and cutting down tree limbs in peril of falling on my roof. He contacted Hydro and made sure they trimmed back all the branches close to the hydro lines which I have been trying to get accomplished for a year! Great service!

Arthur Pereira
Client
Johl and his team were just great they came in removed a dead tree from my backyard pruned all my other trees and cleaned up my yard and my neighbours as well. Great professionals I would recommend them to anyone.

Massimo Scornavacca
Client
The crew was very professional. They did a fantastic job of cutting my tree down, and removing all of the branches. The area was left neat and tidy. The only negative thing I could say, is that it took over 2 months to get them here. Im still very happy with the job and would still highly recommend this company.

Doug Dolson
Client
Awesome Arborist, great pricing and very knowledgeable.

Neil McKay
Client
Great service - really helpful advice - very efficient and friendly
Podcasts from Beautiful Trees - A Division of Green Bird Horticultural