Our team of Consulting Arborists and Qualified Biologists collectively has over 35 years of experience in providing exceptional reports and plans to meet a wide range of project and personal needs. With our extensive knowledge and expertise, we have consistently delivered the highest quality services to our clients.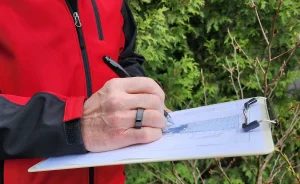 Our Consulting Arborists specialize in assessing and managing trees and woody plants. They are trained to evaluate the health, condition, and potential risks associated with trees, whether it be in an urban setting or a natural environment. Drawing on their vast experience, they can identify potential hazards, recommend appropriate treatments or interventions, and develop comprehensive management plans to ensure the well-being and safety of trees in various contexts.
In addition to our Consulting Arborists, our team also includes Qualified Biologists who bring their expertise in the field of biology to our projects. These professionals have a deep understanding of the biological systems and ecological processes that are crucial to maintaining a balanced and sustainable environment. They apply their knowledge to assess the impact of projects on wildlife habitats, plant communities, and overall ecosystem health. By conducting thorough surveys and analyses, our Qualified Biologists can provide valuable insights and recommendations for preserving and protecting natural resources.
Whether you require our services for a construction project, land development, urban planning, or simply to ensure the health and safety of the trees in your backyard, our team is equipped to handle a diverse range of project types and sizes. We have successfully provided reports and plans for both commercial and residential clients, consistently earning their trust and satisfaction.
When you choose our team, you can expect our Consulting Arborists and Qualified Biologists to utilize the latest industry standards and best practices in their assessments and recommendations. We stay up-to-date with advancements in the field, ensuring that our reports and plans are accurate, comprehensive, and tailored to your specific needs.
With our 35+ years of experience, we have built a strong reputation for excellence in the industry. We take pride in our ability to deliver exceptional results that meet and exceed our clients' expectations. Trust us to provide you with the best reports and plans to address all your project and personal needs, backed by our extensive knowledge, expertise, and dedication to environmental stewardship.